YOU LIVE WITH your body, from the extremities to the intimates, every day of your life. Most likely you take it and its glorious functionality for granted – especially the bits you aren't fully cognisant of.
Then you get pregnant, and suddenly you're hyper-aware of parts of your body you barely gave a thought to up to now.
I'm not referring here to the swollen fingers, ankles and boobs that are pretty much a given, nor to the stretch marks, pelvic pain and the rampant influx of body hair.
I was prepared for those things, but there's a lot more going on in a pregnant body than just the above. Below are the body parts that I came to have an in-depth knowledge of during my pregnancies…
1. Bellybutton
One thing is certain: towards the latter stages of the third trimester, you'll develop a bulging outie bellybutton, regardless of whether you had an innie or an outie to begin with. Yaaaay. It's as if your bump decides to start sporting a tiny bowler hat around week 33, like a particularly proud Mr Forgetful. Speaking of which…
2. Brain 
I'd heard of baby brain, but nothing prepared me for the sheer level of "duuuuuh" that descended as my pregnancies rolled on. Words just weren't where they used to be. Facts weren't retained and the brain happily bumbled into a realm of inert fumblings. One might argue it's still there.
Source: Shutterstock
3. Perineum
Yes, the perineum, as in the area between the anus and the vulva. Bet you weren't expecting that addition. One hears of episiotomy during labour (a surgical cut made at the opening of the vagina to prevent tissues rupturing), but it's not a given, and there are preventative measures one can employ to keep everything supple and elastic down there.
Indeed, you are expected to massage yourself, preferably with almond oil, for several minutes a day (10 to be exact) to help minimise tearing during the birthing process. Apologies if this is in breach of serious TMI territory, but is it not best to be prepared? For those who like being forearmed (literally, you'll need four of them), there are many explanatory diagrams on Google involving both thumbs. Can't reach yourself? Experts suggest getting a partner involved. There are diagrams depicting that also, should you require them…
4. Hair
I was pleasantly taken aback by sheer amount of luscious new hair that sprouted from my head. The volume! Running my fingers through it in the shower, not one strand would come adrift. Then I hit four months postpartum and would find clumps on the shower floor. Pregnant ladies, enjoy the luscious locks, it's one of the more enviable side effects of gestation.
5. Feet
Oh yes, they'll swell, but even after your pregnancy, they'll still be front of mind, because they never quite recover. They, in fact, splay. Pre-kids, weighed down with disposable cash, several pairs of boots, shoes, and all manner of strappy sandals were purchased. Three pregnancies later, d'you think my hooves fit into ANY of them? Nope. Still trying to sell them online.
6. Hips
Pain while walking around for long periods was expected; not being able to physically turn over in bed without cursing mightily for over a minute was not. That's courtesy of relaxin, the hormone produced by the ovary and the placenta.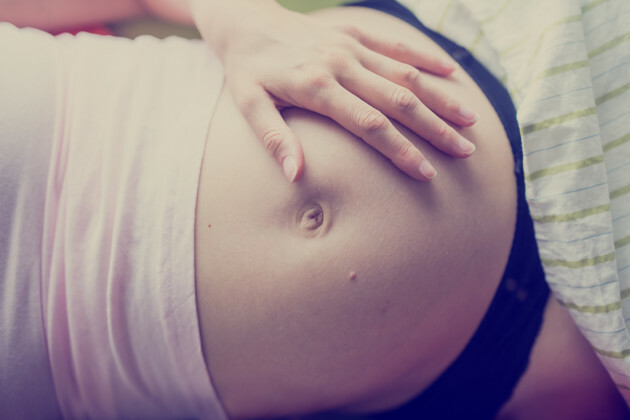 Source: Shutterstock/Gajus
7. Hands
Sausage fingers are one thing, but waking up unable to feel either hand, complete with shooting pains through both wrists into the palms was an unwelcome addition to proceedings. Thanking you, carpal tunnel syndrome. Newsflash: it doesn't always go away. Three years later, I still have it.
8. Mouth, teeth and gums
Metallic mouth, saliva landslide and overly-enthused gag reflex? Sure. Profusely bleeding gums? Not so much. Gingivitis abounds, largely courtesy of the proliferation of pregnancy hormones and the resulting growths on your gums. Don't worry, they're usually small and harmless. If concerned, especially while flossing, your dentist should be able to help. Don't ignore it.
9. Nose
So stuffy. Saline sprays and Olbas oil is pretty much all you can use, and while they do help, NEVER sleepily decide to smell some of the latter while lying down; it felt like half the bottle flew up my nostrils and the result wasn't pretty.
10. Pelvic floor
Don't forget to do your kegels on the regular. Your future laughing/coughing/sneezing self will be extremely grateful.
So, there you have it. Ten things you didn't know you had to look forward to. Don't let it put you off, though. It's all worth it… eventually.
Originally posted on TheJournal.ie